Home - My Background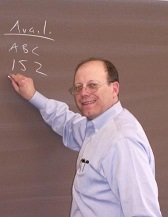 <!img src=images/SiegfriedPortraitInSnow.jpg align="right" height="240" alt="Professor Siegfried's winter Portrait"> <!img src="images/SiegfriedPortraitAtBeach.jpg" align="right" height=240 alt="My picture">

I am a graduate of Columbia University's Columbia College, with my Bachelor's degree in Biochemistry. I stayed on to earn a Master's degree in Metallurgy from Columbia's School of Engineering and Applied Science .

Listening to Horace Greeley's advice, I headed west and did my doctoral work under John Paul Wallace and William Gerberich at the University of Minnesota, earning my Ph. D. in Metallurgy and Materials Science.

While working at the Eutectic Corporation, I went back to school and earned 17 undergraduate credits in Computer and Information Science at Brooklyn College, before earning my Master's degree.

Prior to teaching at Adelphi University, I taught at Saint Peter's College (now Saint Peter's University) in Jersey City, NJ.