House Rabbit Diet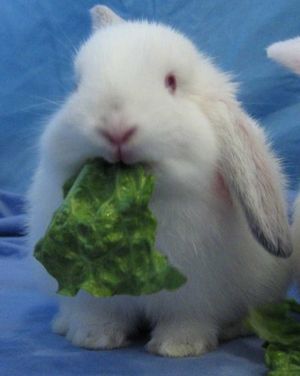 Rabbits under the age of 6 months


Alfalfa-based pellets (such as Oxbow Bunny Basics 15/23)
An unlimited amount of timothy hay
A handful of alfalfa
Fresh water

6-month-old rabbits


Slowly switch to Timothy-based pellets (such as Oxbow Bunny Basics/T)
An unlimited amount of Timothy hay
Slowly decrease the amount of Alfalfa
Slowly introduce small amounts of vegetables and fruits to your rabbit one at a time (parsley, dill, and endive are good vegetables to start with)
Fresh water


Adult rabbits


1/8 to ¼ of a cup of Timothy-based pellets
An unlimited amount of Timothy hay
Three quarters of a cup of fresh vegetables daily (3 different types of vegetables with at least one that contains Vitamin A)
A small amount of fruit 2 or 3 days a week
Fresh water

Safe Vegetables
(* indicates that the vegetable contains Vitamin A)


Safe Fruits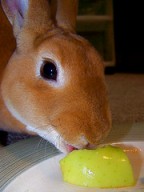 Apple (Fruit only! Remove stem and seeds)
Blueberries
Bananas (Fruit only, no skin. Bananas should only be given as a special treat)
Grapes (Fruit only. Grapes should only be given as a special treat)
Orange (Remove peel and seeds)
Papaya (Remove skin and seeds)
Pear (Fruit only! Remove stem and seeds)
Pineapple (Remove skin and leaves)
Strawberries (Fruit only! Remove leaves)

Rabbits who are too thin, have trouble keeping weight on, are gestating, or are lactating can benefit from eating alfalfa and alfalfa-based pellets



Do not give your rabbit any pellet mix that has seeds and colorful stuff in it. It is very bad for your rabbit.


Do not treat your rabbit like a garbage disposal. They cannot eat any fruits or vegetables that are going bad, wilting, or getting moldy. If you wouldn't eat it, then don't give it to your rabbit.


Please note that what your rabbit eats can have an effect on the color of their urine. For example, foods high in Vitamin C cause a rabbit's urine to turn to a reddish color. Normal rabbit urine can be yellow, orange, clear, white, or red-orange. If you suspect that your rabbit may actually have blood in their urine, call your veterinarian.


Do not give broccoli to rabbits. It will give them painful gas.


Never give your rabbit kale or spinach. Kale and spinach can cause health problems over time, due to the high amount of oxalates and goitrogens.
Only give small amounts of fruit 2 or 3 days a week because the natural sugar in fruits can make bunnies fat and cause their teeth to rot.

Bananas and grapes are very high in sugar and should only be given in small amounts (like 3 grapes or 3 thin slices of banana) 2 or 3 times a month as a treat.
Wash all fruits and vegetables thoroughly to get rid of any pesticides, chemicals, and bugs. Check carefully for bugs.



Introduce fruits and vegetables slowly one at a time over several weeks. If something gives causes diarrhea, do not feed it to the rabbit.


Many believe that papaya and pineapple contain enzymes that help break down food that could clump hair in a rabbit's intestines or stomach, therefore reducing the risk of a gastric trichobezoar (hairball). You can also give papaya tablets to your rabbit. Timothy hay also plays an important role in the prevention of trichobezoars. (Timothy hay provides the fiber needed to keep things moving through a rabbit's digestive system.)
House Rabbit Food Pyramid

(click to enlarge)