About Andr

é

's Life

His actual name is Andr

é

Benjamin but his stage name (Andr

é

3000) is what he is most known by. His birthday is May 27, 1975, and he grew up primarily in Atlanta, Georgia. He is African-American as well as Native-American. Andr

é

's talents include rapping, singing, songwriting, and acting. The genres of music that define him include hip hop and R&B. "Andr

é

3K" has been involved with 22 Grammy nominations, including six wins! He and Erykah Badu, a renowned R&B singer, had a child together. Their son's name is Seven Sirius Benjamin.




Music Career (Outkast)

Andr

é

is undoubtedly most known for his work with Outkast. This is a group he formed with Antwan "Big Boi" Patton. They created six albums together. They are most known for their Grammy winning album, Speakerboxxx/The Love Below. This album is fascinating because Andr

é

3000 and Big Boi did not record the songs together. The first half of the album is only Big Boi songs, while the second half is only Andr

é

songs. Click on the image below to see Outkast's website.

Music Career (Solo)

Outside of Outkast, Andr

é

doesn't really have any entirely solo songs. He appears as a feature in a lot of songs. Musicians and singers are honored to have Andr

é

rap/sing verses in their songs. Artists Andr

é

has worked with include Kanye West, Beyoncé, Erykah Badu, Frank Ocean, John Legend, Fonzworth Bentley, and Drake.

Acting

His most known role was playing Jimi Hendrix in the film Jimi: All Is by My Side. Other films he had roles in include Semi-Pro, Battle in Seattle, Idlewild, Revolver, Four Brothers, and Be Cool.

Fashion

Andr

é

created his own clothing line titled "Benjamin Bixby." He is also known for his interesting taste in apparel. Cloud glasses are only popular today because of him.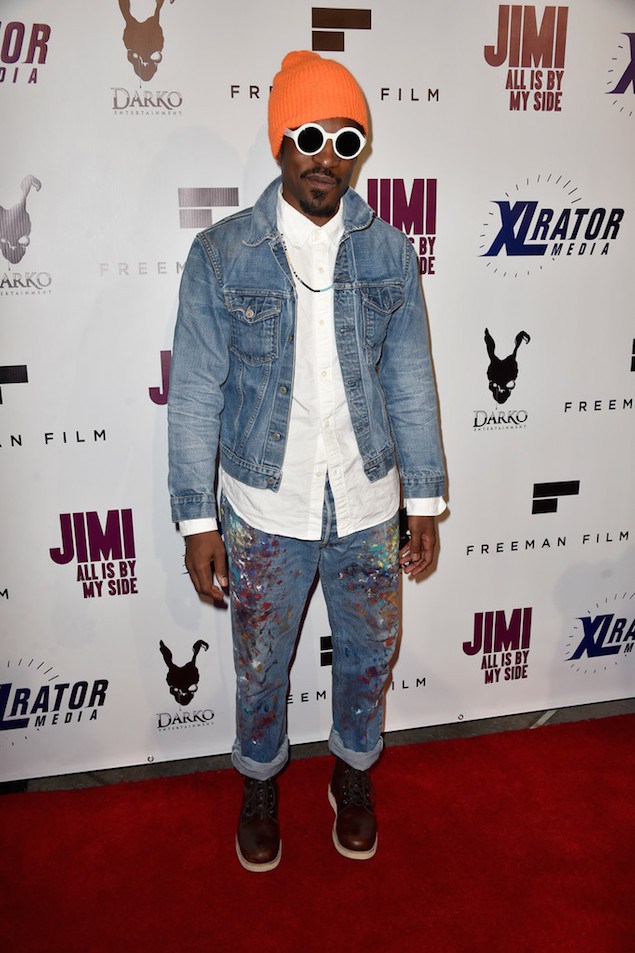 Fun Facts
Was a vegan for 15 years.
Is an animal rights activist.
Cartoon Network had an animated series, Class of 3000, that features a lot of his work.
Included in Billboard's list of 10 Greatest Rappers of All Time.
Has nicknames "Dre," "3 Stacks," "Johnny Vulture," and "Ice Cold."
TOP OF PAGE