<![if !vml]>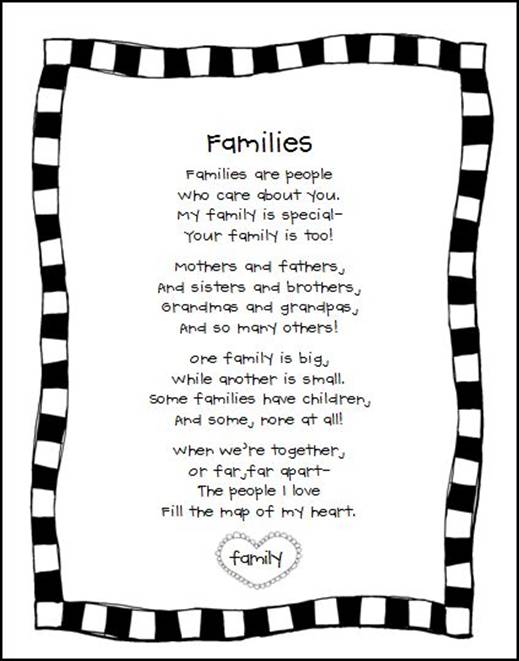 <![endif]>

I Wasn't Raised In A Mansion
© Charlise Butner
I wasn't raised in a mansion
Or fed with a silver spoon
I wasn't brought up to think money is everything
Because only fools believe thatís true
I wasn't raised to live out my parents dream
But to proudly dream my own
I wasn't raised to walk the popular path
But to strongly pave my own
I wasn't raised with material things
But something great indeed
I was raised with love
And love is all I need


Source: Poem To Parents Thank You, I Wasn't Raised In A Mansion http://www.familyfriendpoems.com/poem/raised-with-love#ixzz2EK0Qekdy
www.FamilyFriendPoems.com
Grandmas Wings
© Ricky R. Hernandez
Grandma I wonder
where you keep your wings.

Are they hung in your closet
with the rest of your things?

Do you put them away
and just use them at night

or give them to Rosie
to polish up bright.

I know you have wings,
for this must be true,

'cause God always gives
them to Angels just like you.


Source: Grandma's Wings, Grandmother Poem http://www.familyfriendpoems.com/poem/grandmas-wings#ixzz2EJzdwOfW
www.FamilyFriendPoems.com
Grandma
© Michele S. Reeves
Grandma,
A baby cradled in your arms...
Teaching me your gentle charms.
Growing up with you by my side...
Learning from you never to lie.
To understand and not judge too...
Love and kindness I also learned from you.
Through the years you watched me grow...
Teaching me everything I'd need to know.
Listening to every word I've said...
And every word I've wrote you've read.
You've been there for me to the end...
Until the day for you, God did send.
Now you watch me from up above...
Shining down on me your heavenly love.
I will miss you with all my heart...
Thank you for being there from the start.


Source: Grandma, Thank You For Being There, Grandmother Poem http://www.familyfriendpoems.com/poem/grandma-thank-you-for-being-there#ixzz2EK01YBgv
www.FamilyFriendPoems.com